Kurt Heinecke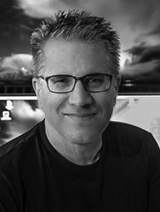 Kurt Heinecke has been a professional composer, musician, and producer for over 30 years. He is probably best known for his 25 years of work with Big Idea Productions, as the Director of Music for the "VeggieTales" and "3-2-1 Penguins" video series. Roles included co-writing songs (i.e. The Hairbrush Song, His Cheeseburger, VeggieTales Theme Song), writing score (including two full-length feature movies), performance (that's him playing Larry's tuba…), sequencing, and production. Kurt's work has sold over 75 million video and audio units, garnered 7 Dove Awards, and caused more than one student to pick the tuba in beginner band. Since then, Kurt has worked as a freelance composer and musician with clients such as Disney, Sesame Workshop, Blizzard Entertainment, CBN, and TBN.
Kurt began arranging, trumpet, and singing in junior high. By high school he was playing any brass instrument he could find, arranging for a Dixieland band, and directing a German band. He received his BA in music education, with an emphasis in band and choral conducting, from Luther College. While there, he was president of Nordic Choir, under the direction of Weston Noble. Following college, Kurt was a general music teacher in the Bahamas, a band director in Chicago, a touring musician, and a church music director. Kurt has also been the Assistant Artistic Director for Music City Strings, a premier performance and touring string ensemble that his two sons have been involved in, touring Europe, China, and Canada, and performing with Grammy-winning artists such as Vince Gill, Amy Grant, and Michael W. Smith.
Kurt keeps busy as a freelance composer, musician, and photographer, surrounded by hundreds of instruments in his Nashville-based studio. With all three kids now grown and studying or teaching music, Kurt and his wife, Judy, are adjusting to being empty-nesters!