Kenley Kristofferson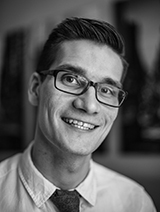 Kenley Kristofferson is a composer for concert band, concert choir, symphony orchestra and video games. Starting his musical pursuits as a euphonium player in Gimli, Manitoba, he later went on to complete his B. Mus and B. Ed degrees from the University of Manitoba and became one of the instrumental music educators at Lord Selkirk Regional Comprehensive Secondary School in Selkirk, MB. In 2019, he completed his Master of Music in Composition from Brandon University, studying under Dr. T. Patrick Carrabré.
His work "The Meeting Place" won the 2016 Canadian Band Association Composition Competition (now the Howard Cable Memorial Prize in Composition). His band music has been recorded by the Arizona State University Wind Orchestra, Barrett Choir, and Choral Union, the University of Northern Colorado Wind Ensemble, the Cleveland Symphonic Winds, the Washington Winds, the University of Manitoba Wind Ensemble, and the Winnipeg Wind Ensemble.
He has written commercial work for video game franchises such as Betty Boop, Disney's DuckTales, KRE-O and Warhammer 40,000. The score for his short film on the early life of astronomer Carl Sagan, Star Stuff, was nominated for Best Original Score in the "Short" category in the 2016 International Sound and Film Music Festival in Croatia.
He lives in Winnipeg, Manitoba. When not writing concert music, he is spending time with his wife and two kids, playing retro video games, woodworking, or running outside. His music and his writing can be found on his website at http://www.kenleykristofferson.com.