Katheryn Fenske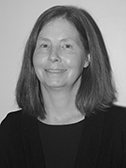 Katheryn Fenske has more than 30 years of experience in the field of music education, teaching instrumental music, composing and arranging works for concert band, and conducting clinics throughout the United States.
She grew up in Oconomowoc, WI and received a Bachelor of Arts, Summa Cum Laude from Luther College in Decorah, IA and a Master of Music from Northwestern University in Evanston, IL, where she was a student of John Paynter.
Her many years of teaching band students of all levels have proven very helpful for writing music that is both interesting and attainable for young musicians. Her works for concert band have been featured at the Midwest International Band and Orchestra Clinic and appear on state music festival lists around the U.S.
Making the joy of music accessible to all is one of Katheryn's greatest passions. She has helped people with disabilities experience the arts through her work with Access the Arts at Stages St. Louis and her many years teaching music at St. Joseph Institute for the Deaf.
Katheryn is currently teaching middle school band in suburban St. Louis where she resides with her husband, three children, and springer spaniel. In addition to teaching band, she maintains an active clarinet studio. She is a member of the American School Band Directors Association, Missouri Music Educators Association, Missouri Bandmasters Association, NAfME, Phi Betta Kappa Society, and Pi Kappa Lambda Society. Recently, she was named an Independent Schools of Saint Louis Teacher of Distinction and received the Emerson Excellence in Teaching Crystal Apple Award.
Publications by Katheryn Fenske