Herb Bassett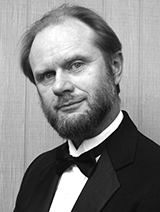 H. W. Bassett has directed bands in the public schools of northeast Louisiana for 33 years. Most of his career has been spent in small school band programs where he was the sole director for grades 6-12. Since 2007, he has taught all band students at LaSalle Junior High and LaSalle High School in Olla, Louisiana. Concurrently he served as director at Jena Junior High and High School 2010-2015, and he previously served as director at Caldwell Parish High School, Vidalia Junior High and High School, and Tallulah Jr./Sr. High School.
Utilizing his experience with students at all levels, Mr. Bassett specializes in custom composing and arranging for small high school bands. Seventeen of his works have been performed at the LMEA State Festival, and his works have been featured at the Ark-La-Tex, Louisiana Music Educators' Association, and Mississippi Bandmasters conferences.
Mr. Bassett is a member of Louisiana Music Educators' Association, has twice served as president of the District I Band Directors' Association, and served as Assistant Executive Director of the South Central Regional Music Conference.