e Austin Thompson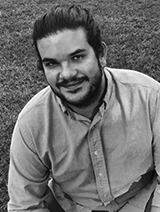 e Austin Thompson is a performer, composer, producer, and promoter based out of New Orleans, Louisiana. He earned his Masters degree focused in Music Industry from Troy University and his Bachelors of Music degree from Louisiana State University. His passion for music has made him a major player in all areas of the music industry.
As a composer his works have been performed by Hamiruge, Chemorocket, and the Saint James School Band. His focus remains in percussion and creating new ensembles using acoustic and electronic instruments. Austin was also a presenter/performer at the Percussive Arts Society International Convention and the Alabama Music Educators Association Convention.
As a musical artist (under the stage name Dino Brawl), he has performed at countless music festivals throughout the southeast including Hangout Music Festival, Zen Awakening Transformational Festival, Ignition: Chewburnitall and Pass The Good Music & Arts Festival. Austin also works as a promoter for Winter Circle Productions, a New Orleans based production company focusing in EDM, Hip Hop and Indie Rock.