Charles Mekealian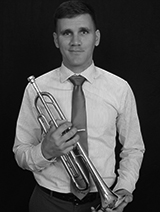 Charles Mekealian is a freelance music composer and former Marine Corps Musician. Raised in Sanger, California, Mr. Mekealian was inspired to pursue a career in music education and composition by his membership as a trumpet player with the Santa Clara Vanguard organization. Mr. Mekealian studied music at Fresno City College and graduated from the Basic Musicians Course at the Naval School of Music in 2010.
Mr. Mekealian began arranging music for marching, concert, and show bands after graduating high school in 2005. In 2007 he composed a performance chorale for the Santa Clara Vanguard Cadets that was performed at Drum Corps International Championships. From 2009 to 2012, Mr. Mekealian arranged and composed several field shows for the Sanger High School Apache Marching Band. He has also composed and arranged multiple works for the Marine Corps Bands in which he served. His most notable arrangement, "Mi Chiamano, Mimi," by Giacomo Puccini, was presented at the Spirit of Rebirth concerts to commemorate the 10-year anniversary in memoriam of devastation caused by Hurricane Katrina. He served as the ensemble leader and staff arranger for the Marine Corps Band New Orleans Brass Quintet. The Brass Quintet traveled across the United States performing many of his works for music students as well as military and civic ceremonies.
Currently, Mr. Mekealian resides with his wife and two daughters in San Diego, California. Mr. Mekealian is currently a staff arranger for several high school band programs in California. He is also a music and visual coach in the San Diego Unified School District and is a student at San Diego State University, pursuing his dream of becoming a music educator.
Publications by Charles Mekealian