Bryce Newton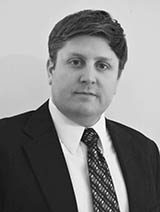 Bryce Newton (b. 1983) is a composer, arranger, and music educator in Dayton, Ohio. He has been a high school and middle school band director since 2006, and currently serves on the faculty of the Kettering City Schools in Kettering, Ohio as the Director of Jazz Ensembles and Band Director at Van Buren Middle School.
Bryce's compositions for band have been performed across the globe, including works at the Midwest International Band & Orchestra convention in Chicago, as well as the Thailand International Band & Orchestra Festival. He was named a composer of a "top 100" new work for wind band in 2020 by Bandworld Magazine. Currently, his works are on state festival lists in both Texas and Indiana in the concert band and jazz ensemble categories.
Bryce holds a Bachelor of Music Education degree from Miami University in Oxford, Ohio. His music for concert and jazz ensembles is published exclusively with the RWS Music Company and the C.L. Barnhouse Company.
Publications by Bryce Newton