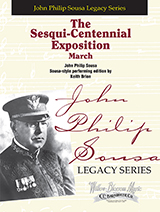 Composed to commemorate the 150th anniversary of American independence, this march is considered one of Sousa's finest from his last years. This Sousa Legacy Edition expertly edited by Keith Brion includes extensive program notes and rehearsal suggestions. A brilliant 6/8 march which audiences and performers will enjoy. Excellent!
This work is not yet available for sale.
Please check back later this summer to view the score and for the opportunity to add it to your cart.
Until then, enjoy the recording as performed by Royal Artillery Band, Keith Brion, director.