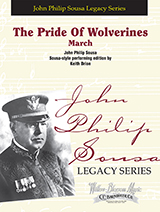 This outstanding Sousa march was composed for and dedicated to the people of Detroit, Mich. in 1926, and was later adopted as the official march of that city. One of the March King's most vigorous and exciting marches, this Sousa Legacy edition by Keith Brion presents all the vitality and spirit of the original – and more! Extensive program notes and performance suggestions make this a "must" for your band's library. Terrific!
This work is not yet available for sale.
Please check back later this summer to view the score and for the opportunity to add it to your cart.
Until then, enjoy the recording as performed by Royal Artillery Band, Keith Brion, director.