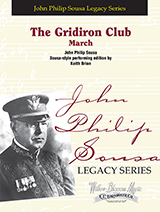 This 1926 Sousa march was composed in honor of Washington, D.C.'s noted Gridiron Club, an organization including representatives of major newspapers, news magazines, and broadcast networks. With music traditionally provided by Sousa's old outfit, the United States Marine Band, the March King penned this sparkling march for the "Griddies." This Sousa Legacy edition presents this gem in a carefully edited format, with extensive program notes and rehearsal suggestions. Top notch!
This work is not yet available for sale.
Please check back later this summer to view the score and for the opportunity to add it to your cart.
Until then, enjoy the recording as performed by Royal Artillery Band, Keith Brion, director.