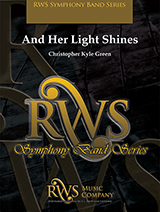 And Her Light Shines

Inspired by the human quality of resilience in the midst of adversity, this beautiful piece was written to honor a very special music educator. Beautiful harmonies suitable for the moderate to advanced ensemble will fill your concert hall as the band honors the female musicians and music educators in our world. The unforgettable melody is shared throughout the ensemble providing a rich musical experience for all.
This item is not yet in print. Please check back later to place an order.