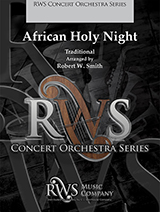 The traditional carol O Holy Night has been re-imagined in a completely different setting for full orchestra. Featuring the percussion section, we are musically transported to the Serengeti and jungles of Africa to explore the well-known melody in both time and texture. A unique and exciting selection for your next holiday concert!
This work is not yet available for sale.
Please check back later this summer to view the score and for the opportunity to add it to your cart.