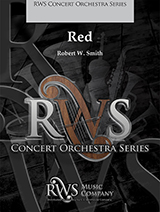 Red

"Red" is a popular work by Robert W. Smith scored for full orchestra. As the first movement from "Krisanna's Colors", the suite is inspired by her color choices used to describe her daily emotions and moods. Beginning with somber clarinet solo and choir, the mood quickly changes to bombastic and extreme energy. You may consider programming Red (Mvt. 1) along with Blue (Mvt. 2) and Yellow (Mvt. 3) for even greater effect. An excellent choice for your concert/festival program!
This work is not yet available for sale.
Please check back later this summer to view the score and for the opportunity to add it to your cart.