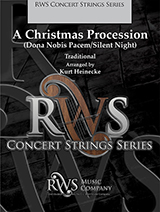 A Christmas Procession
(Dona Nobis Pacem/Silent Night)

Create a lasting memory with this procession that combines the Dona Nobis Pacem round Grant us Peace with Silent Night. Easily memorized parts allow your string players to process down the aisles as they introduce each part of this beautiful round, followed by leading the audience in the singing of Silent Night. Created for Vince Gill's and Amy Grant's annual Christmas concerts, and dedicated to Amy, this concert closer garnered a standing ovation every time it was performed at Nashville's famous Ryman Auditorium.
This work is not yet available for sale.
Please check back later this summer to view the score and for the opportunity to add it to your cart.