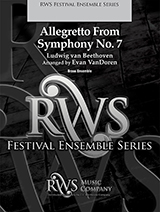 Beethoven's 7th Symphony stands among a litany of colossal works by the now immortal composer that has more than withstood the test of time. Evan VanDoren artfully crafts this arrangement of the works' second movement, "Allegretto" into a brooding, slow-building brass arrangement that culminates with one of the greatest climaxes in all of music. Program this work for your brass ensemble today!
This work is not yet available for sale.
Please check back later this summer to view the score and for the opportunity to add it to your cart.