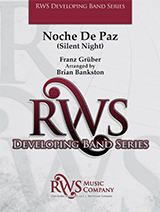 A creative reimagining of the classic carol Silent Night in the relaxing Brazilian style of Bossa Nova. Warm and mellow harmonies, deceptive chord movements and Latin percussion provide an excellent education in ethnic rhythms and sounds. Broaden your band's diversity with this tranquil arrangement of a Christmas classic.
This work is not yet available for sale.
Please check back later this summer to view the score and for the opportunity to add it to your cart.