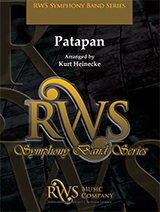 Patapan This sprightly arrangement of the well-known French carol imagines shepherds playing their primitive instruments as they celebrate news of a baby born in Bethlehem. What begins as whispers from the flute and drum grow as word spreads and a fugue-like melody bounces between instruments. The song builds to a powerful climax as the shepherds gather and march down from their pastures together.
This work is not yet available for sale.
Please check back later this summer to view the score and for the opportunity to add it to your cart.