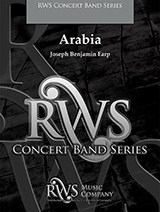 Arabia

"Arabia" is based on the legend of Atlantis, a lost city in ancient Arabia. This mysterious city was buried under the sand after being destroyed by natural disasters said to be unleashed by angry Gods. Many explorers seeking the lost city believe it is near the southern deserts of modern-day Saudi Arabia. Sit back and imagine you are transported back to this amazing ancient city.
This work is not yet available for sale.
Please check back later this summer to view the score and for the opportunity to add it to your cart.