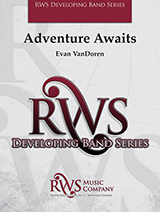 Adventure Awaits

"Adventure Awaits" captures the excitement felt at the start of something new. Appropriately challenging for a developing band, this brief concert opener provides opportunities to explore lyrical melodies, colorful harmonies, independent entrances, and more! Start your next concert with this energizing selection.
This work is not yet available for sale.
Please check back later this summer to view the score and for the opportunity to add it to your cart.