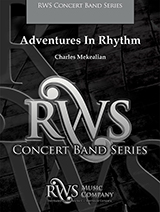 Adventures In Rhythm

"Adventures in Rhythm" is a fun, fast-paced piece that can also be used to broaden your band's rhythmic capabilities. The variety of syncopation creates an energetic feel, and the thematic elements in the piece are sure to capture the approval of your musicians and audience members.
This work is not yet available for sale.
Please check back later this summer to view the score and for the opportunity to add it to your cart.