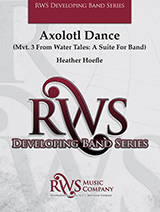 Axolotl Dance
(Mvt. 3 From Water Tales: A Suite For Band)

Named after Xolotl, Aztec god of fire and lightning, Mexican salamanders called Axolotls are increasing in popularity. They feature an anime-like appearance and have recently appeared in the computer game Minecraft! "Axolotl Dance" honors the Mexican heritage of these amazing creatures with basic Latin percussion, and highlights their charm with a lighter melody. Not just a pretty face, these creatures also have mysterious powers of regeneration like no other, making them of interest to scientists. Have fun learning about these delightful creatures while preparing this fun piece for performance!
This work is not yet available for sale.
Please check back later this summer to view the score and for the opportunity to add it to your cart.