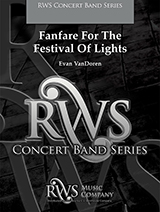 Fanfare For The Festival Of Lights "Fanfare for the Festival of Lights" weaves two traditional Hanukkah melodies, Ma'oz Tzur and The Dreidel Song into a colorful, rousing celebration! Evan VanDoren has masterfully crafted an approachable, mature-sounding composition that will challenge your best performers while meeting the needs of your developing players. Get your next holiday concert started with energy and excitement!
This work is not yet available for sale.
Please check back later this summer to view the score and for the opportunity to add it to your cart.