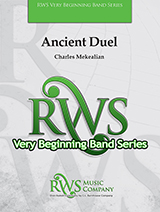 Ancient Duel

Prepare for musical combat! The competitors? Metal instruments vs. wooden instruments. Sounds of wooden swords battling metal and stone set the scene of an epic battle. The contrasting musical elements work together to create a musical melee that draws the audience into the fray. Call and response sections provide a fun and exciting method for reinforcing rhythmic accuracy and tempo discipline.
This work is not yet available for sale.
Please check back later this summer to view the score and for the opportunity to add it to your cart.