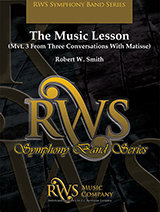 The Music Lesson
(Mvt. 3 from "Three Conversations with Matisse") Inspired by the command and structure of two Henri Matisse paintings under the name "The Music Lesson", this powerful work for alto saxophone and band will become a staple of the repertoire. From the strict structure of the opening piano statement to the classically influenced melodic interplay with the saxophone, the piece moves through a flowing musical environment highlighted by a virtuosic cadenza. The recapitulation of the initial melodic line completes our music lesson and provides a strong conclusion to "Three Conversations With Matisse", a suite for alto saxophone and band.
This work is not yet available for sale.
Please check back later this summer to view the score and for the opportunity to add it to your cart.