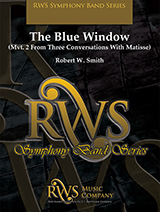 The Blue Window
(Mvt. 2 from "Three Conversations with Matisse") Inspired by "The Blue Window" by Henri Matisse, this lyrical statement for alto saxophone and band is a subdued departure from the more colorful and powerful movements of "Three Conversations With Matisse". Reflective and poignant, your soloist, ensemble and audience will be quietly enthralled in a musical setting that harkens to days gone by. Simply stated….beautiful.
This work is not yet available for sale.
Please check back later this summer to view the score and for the opportunity to add it to your cart.