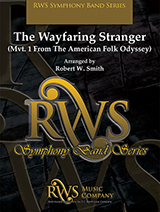 The Wayfaring Stranger
(Mvt. 1 from The American Folk Odyssey)
Arranged by: Robert W. Smith

Based on the American folk song "Poor Wayfaring Stranger", this work for euphonium and band is a movement from "The American Folk Odyssey", a suite for various soloists and concert band. Beginning with a mysterious and lyrical statement of the haunting melody, the piece quickly transitions to the high seas in homage to the early Americans that journeyed by ship to the American continent. The sea chanty setting provides technically rich and effective environment to feature the euphonium with full band interaction while engaging the audience. Following a virtuosic cadenza, the movement concludes in a powerful musical flurry leaving the soloist, band and audience breathless!
This work is not yet available for sale.
Please check back later this summer to view the score and for the opportunity to add it to your cart.