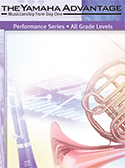 Barbara Allen
$9.95
Trombone/Baritone B.C./Bassoon solo with piano/CD accompaniment
An arrangement containing different harmonic presentations of this English Folk Song. The simplistic beauty of the rising and falling tune gives instrumentalist an opportunity to work on their expressive playing.
Program Notes, Form and Analysis, Performance Suggestions, and CD accompaniment are included with solo and piano accompaniment.
Correlated with The Yamaha Advantage TM Book 1 – page 25.
Compatible with SmartMusic.