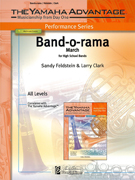 Band-o-rama
March
If you are looking for a piece that can be used to combine your Elementary, Middle School and High School bands for a mass performance – here it is!
Band-o-rama march contains parts for elementary, middle school/intermediate, and high school/advancing players. The parts marked A are for the high school level, B parts for middle school and C parts for elementary. If a part does not have an indication of A, B or C, it is intended to be the part for all levels.
The unique part of this wonderful march is that each set works independently and can be performed with or without the other.
Fun to play, Band-o-rama March is a great way to increase retention while raising the visibility of the entire band program! Students, parents, staff and administration will love seeing and hearing everyone performing together!
High School Set: PT-YCB06A-00
Elementary/Middle School Set: PT-YCB06B-00
The score is the same for both sets.
Product
SKU
Price
Quantity
High School Concert Band set
PT-YCB06A-00

$

40.00
Elementary/Middle School Concert Band set
PT-YCB06B-00

$

40.00
Extra score (both bands)
PT-YCB06F-01

$

6.00