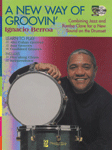 New Way of Grooving
Jazz & Latin Grooves For Drum Set With CD
$24.95
Two Innovative books for the drum-set by Ignacio Berroa. In defining the talent of Ignacio Berroa, Dizzy Gillespie said "…The only Latin drummer in the world, in the history of American music who intimately knows both worlds:
his native Afro-Cuban music as well as jazz.
Both books contain CD's with instructional material played by the author and both contain fantastic play a-long tracks Groovin' in Clave combines Rock and Funk with Afro-Cuban rhythms.
A New Way of Groovin' combines Jazz and Rumba Clave for a new sound on the drum-set.